San Tan Leads membership provides our members with a list of benefits, exclusive to San Tan Leads.
Weekly Meetings:
These meetings are a tremendous opportunity for your business. You are given a chance, each and every week, to "teach" our members and guests, about your business, during your 60 second commercial. This is a critical time when you are able to capture the attention of many people who are eager to learn how to proactively generate business for you. In addition to your weekly commercial, several times throughout the year you are also given 15 minutes to highlight your business as our weekly featured business.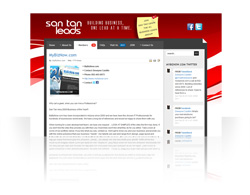 Full Web Page on San Tan Leads Website:
All of our members are given a full page on the San Tan Leads website, to promote their business. This page includes your company name, contact information, full bio and details of your business, links to your existing website and any of your social networking sites as well. Take a look through our current member list and see what your member page could look like.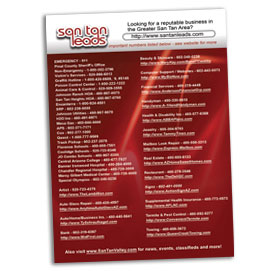 Company added to the San Tan Leads Magnet:
The San Tan Leads magnet has been a tremendous marketing piece for San Tan Leads and our members. Only San Tan Leads members are able to list their contact information on these magnets. These magnets are updated regularly and passed out throughout the entire region including to the local HOAs, the College and Johnson Utilities. In addition these magnets are handed out by all of our members to their clients, friends and family.
What makes these magnets so special? They list all of the Important Numbers for the Greater San Tan area and are a true resource for our community residents. They aren't thrown away like brochures and flyers. They are put on resident's refrigerators and in their offices as a tool to use to find what they need, when they need it.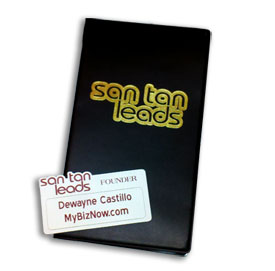 San Tan Leads Name tag:
All of our members are given a San Tan Leads name tag that displays their involvement in San Tan Leads, as well as their company name. Wearing these not only to our meetings, but to client appts, etc is a great way to let people see your business name and San Tan Leads brand. Belonging to a group, like San Tan Leads, helps to build your reputation as a business who is involved in the community and supports local business.
San Tan Leads Business Card Book:
Once you are approved as a member of San Tan Leads, you are given one of our San Tan Leads business card books. These books are carried by all of our members, and include all of our members' business cards. This allows us to pass out your card, when someone is looking for someone that does what you do.
San Tan Leads Facebook:
All of our members are also listed on our San Tan Leads Facebook page - http://www.facebook.com/santanleads. We highlight our activities, our featured weekly businesses and more.
San Tan Leads Twitter Page:
San Tan Leads actively posts information on our Twitter page - http://www.twitter.com/santanleads - again promoting you and your business to our followers.
San Tan Leads participates in many vendor fairs throughout the area, throughout the year. Working these booths, allows you to not only support San Tan Leads, but to promote your business as well. We have a professional setup and work together to promote each others' businesses all year long.