San Tan Leads is the creation of Dewayne Castillo. Dewayne and his family moved to the Greater San Tan Area in 2006. After having spent 15+ years networking and building his own successful business Dewayne realized that to help other businesses in this unincorporated area of Pinal County, known as the Greater San Tan Area, a leads group was necessary.
After several months of planning, San Tan Leads met for the first time on June 24th, 2008 at Big Daddy's Backyard Grill. If you are interested in visiting San Tan Leads, please click here to contact Dewayne.
In addition to meeting new businesses in the area, San Tan Leads also helps to educate each member on how to market their business as well as basic Business 101 information. We have weekly member speakers and each week there is a "topic" that we discuss to help give each member an edge in the current market.
San Tan Leads is not like any other networking group.  Many business owners and sales reps join networking groups with the goal of selling their product or service to the members of the group.  While working with other members in San Tan Leads is a bonus, it is not the goal.  San Tan Leads allows business owners and sales reps an opportunity to teach the other members of San Tan Leads, how to sell for them.  Each week, members are asked to present a tip, product or idea that helps the other members learn more about his/her business.  The 60 second commercial is used to teach, not sell, the other members.  When our members learn about product specifics, how to overcome specific objections, buzzwords to listen for, etc, our members can suggest solutions to their family, friends and clients and generate quality leads.  It's easy to refer a Realtor when someone asks for one.  Our members however learn how to suggest a Realtor as a way to solve a problem a potential client may have proactively.  If you want to learn more about San Tan Leads and how together we build business, one lead at a time, visit us as a guest during one of our weekly meetings.
We meet every Tuesday from 7:30am - 9:00am for our general membership meetings and training.
Questions about San Tan Leads?  Please contact Dewayne by either calling 602-443-0073 or click here.
Interested in visiting San Tan Leads? Click Here
Member Benefits
San Tan Leads membership provides our members with a list of benefits, exclusive to San Tan Leads.
Weekly Meetings:
These meetings are a tremendous opportunity for your business. You are given a chance, each and every week, to "teach" our members and guests, about your business, during your 60 second commercial. This is a critical time when you are able to capture the attention of many people who are eager to learn how to proactively generate business for you. In addition to your weekly commercial, several times throughout the year you are also given 15 minutes to highlight your business as our weekly featured business.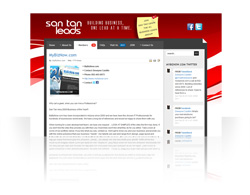 Full Web Page on San Tan Leads Website:
All of our members are given a full page on the San Tan Leads website, to promote their business. This page includes your company name, contact information, full bio and details of your business, links to your existing website and any of your social networking sites as well. Take a look through our current member list and see what your member page could look like.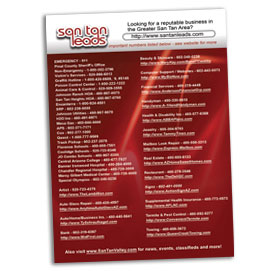 Company added to the San Tan Leads Magnet:
The San Tan Leads magnet has been a tremendous marketing piece for San Tan Leads and our members. Only San Tan Leads members are able to list their contact information on these magnets. These magnets are updated regularly and passed out throughout the entire region including to the local HOAs, the College and Johnson Utilities. In addition these magnets are handed out by all of our members to their clients, friends and family.
What makes these magnets so special? They list all of the Important Numbers for the Greater San Tan area and are a true resource for our community residents. They aren't thrown away like brochures and flyers. They are put on resident's refrigerators and in their offices as a tool to use to find what they need, when they need it.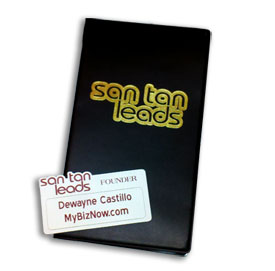 San Tan Leads Name tag:
All of our members are given a San Tan Leads name tag that displays their involvement in San Tan Leads, as well as their company name. Wearing these not only to our meetings, but to client appts, etc is a great way to let people see your business name and San Tan Leads brand. Belonging to a group, like San Tan Leads, helps to build your reputation as a business who is involved in the community and supports local business.
San Tan Leads Business Card Book:
Once you are approved as a member of San Tan Leads, you are given one of our San Tan Leads business card books. These books are carried by all of our members, and include all of our members' business cards. This allows us to pass out your card, when someone is looking for someone that does what you do.
San Tan Leads Facebook:
All of our members are also listed on our San Tan Leads Facebook page - @santanleads. We highlight our activities, our featured weekly businesses and more.
San Tan Leads Twitter Page:
San Tan Leads actively posts information on our Twitter page - @santanleads - again promoting you and your business to our followers.
San Tan Leads participates in many vendor fairs throughout the area, throughout the year. Working these booths, allows you to not only support San Tan Leads, but to promote your business as well. We have a professional setup and work together to promote each others' businesses all year long.
FAQs
Yes, however our dues are less expensive than any other referral or networking group out there! Our membership fees are only $150 per year (plus a $35 non-refundable application fee) - that's only $12.50 per month.
What other form of advertising could you get for $12.50 a month that will work to build your business?
Can anyone attend the meetings?
Can I attend a meeting before joining?
Do I have to live in San Tan Valley in order to join San Tan Leads?
Do you accept anyone who applies for membership?
Do you have regular meetings?
Who can join San Tan Leads?
Membership Requirements
PURPOSE:
San Tan Leads is a voluntary business organization of men and women coming together in a supportive environment to establish mutually beneficial business relationships with other business people and potential clients. San Tan Leads focuses on business education and ideas. San Tan Leads believes that the most important skill for effective business networking is focusing on how one can help others rather than focusing on how the others can help oneself.
MEMBERSHIP REQUIREMENTS:
Only 1 person from each professional classification is permitted to join San Tan Leads
All members must represent only 1 company
All members must represent their primary occupation.
Company must be in business for minimum of 1 year or have experience in the same field for more than 1 year.
Members may only represent products and/or services. No Business Opportunities or MLMs are to be promoted.
All members are expected to bring quality referrals and visitors to San Tan Leads.
All members are required to demonstrate support for the purpose of this organization.
All members are required to attend the weekly meeting. Members must arrive on time and stay for the entire meeting. If a member cannot attend a meeting, a substitute should be sent. If no substitute is sent, an absence is recorded.
If a member is unable to attend the meeting and no substitute is able to attend, the member is required to notify Dewayne of his or her absence no later than 5pm the day before the meeting. 3 excused absences every 6 months, puts a member's membership in review status. Membership review status could result in termination of membership.
San Tan Leads Members are not allowed to join or be members of any other referral/leads group. Violations of this rule will result in termination of membership.
CODE OF ETHICS:
Members will provide high quality of services and products at the fees and prices agreed upon by clients/customers.
Members will conduct all business with honesty and integrity.
Members will build trust and goodwill among members and their referrals.
Members will take responsibility for following up with every referral received.
Members will display a positive and supportive attitude with San Tan Leads' members.
Members will live up to the ethical standards of their profession.
MEMBER COMMITMENT:
As a member of San Tan Leads, I promise …
To attend all meetings regularly
To pro-actively pursue qualified referrals for members within the group.
To prepare my commercial ahead of time – remembering that the commercial is my time to teach other members about my business.
To prepare all speeches and/or presentations to the best of my ability.
To help the group maintain the positive, friendly environment necessary for all members to learn and grow.
To serve the group as an officer and/or committee chair/member when called upon to do so.
To treat fellow members and visitors with respect and courtesy.
To bring visitors to meetings so they can see the many benefits membership offers.
To adhere to the bylaws and rules for all San Tan Leads programs.
To conduct my business honestly and ethically.